Pawn Your Apple MacBook for Cash in Mesa Today!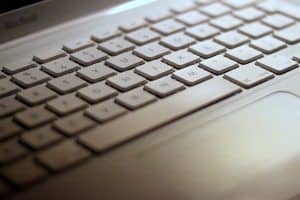 An Apple MacBook has considerable value when first sold, and even after a good amount of usage, they retain much of their value because they're manufactured so well, and because there is such strong demand for MacBooks. If you have a need for generating a significant amount cash quickly, you can pawn your Apple MacBook in Mesa, Arizona at our pawn shop store, and get the cash you need to cover the period of your financial shortage. If you'd like an estimate of what your Apple MacBook might be worth, feel free to give us a call at our pawn shop store, and one of our friendly representatives will be happy to provide you with a free estimate of its value.
Free, Accurate Appraisals when Pawning Your MacBook
It should be borne in mind however, that the most accurate assessment of your MacBook's value can only be done on site here at our store, by our resident computer expert. That means you'll need to bring in your MacBook to our store, and to receive the maximum payout possible, be sure to bring along all the original cables and accessories that came with the computer when you purchased it. It's even advisable to bring along the original box it was packaged in, and the bill of sale that you have from the time of purchase, because these things help to establish value, and you'll end up with more money in your hands as a result.
The Best Pawn Shop in Mesa Serves All Surrounding Cities
Even if you don't live in the immediate surrounding area, it will be worth your while to bring your Apple MacBook into us, so we can give you the fairest and most accurate appraisal of its value. Wherever you happen to be in such nearby communities as Chandler, Apache Junction, Scottsdale, Gilbert, Tempe, or Phoenix, and even beyond those towns and cities, we urge you to bring your Apple MacBook, as well as any other Apple devices you may have, into our shop for a thorough examination. If you happen to have any other Apple electronics laying around the house, bring those in as well, since they are also likely to have value. And if most of your electronic devices were made by some other manufacturer, that's fine too, because we always have need for high quality electronics, and the people who browse through our inventory, also seek such quality.
When you bring in your Apple MacBook to pawn with us, we will establish its fair market value, and that amount will be advanced to you right on the spot. A pawn loan agreement will be drawn up, in which you will have 90 days to pay off the loan on your MacBook, in monthly installments that include an interest component and a principle component. By paying on at least the interest part of that installment, your loan agreement will remain in good standing, and then you can pay down the principle when you are able. There will of course be no penalty for early payoff of your loan, and at the successful completion of your agreement, you will resume ownership of your valuable Apple MacBook.