Pawn Apple Watch in Mesa, Arizona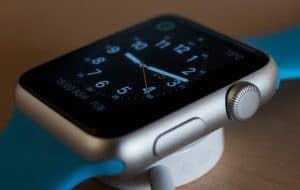 Some watches these days have a great deal more capability than simply telling the time, and that means they can also have considerably more value than ordinary timepieces from years past. If you happen to have an Apple watch, this is one of the futuristic devices which has a great many more capabilities, along with increased value. While everyone who owns an Apple watch invariably falls in love with it, there may be a situation which you encounter where you need to generate cash as quickly as possible, and you have no other means to do that, other than to use it as collateral and receive an amount of money that helps you get past a rough financial period.
You can pawn your Apple watch in Mesa, Arizona at our pawn shop store, and get the maximum possible payout for it. Whether your Apple watch is the Series 1 or the really advanced Series 2 Apple watch with built-in GPS function, you can expect to get the highest possible payout after our appraiser examines your watch in our store, right while you observe. You can call ahead of course, to get an idea about the value of your Apple watch, and one of our knowledgeable representatives will be glad to provide you with a free estimate of value, but we can only give you a really accurate and fair estimate when we have had the chance to appraise the watch here at our store. Please remember to bring along the original box which you got at time of purchase, as well as any other paperwork which came with it, including the bill of sale from the purchase.
At your option, you could sell the watch to us outright and simply walk away with the cash, or if you prefer to resume ownership after the term of the pawn loan agreement, we can write up a 90-day contract to that effect. For the duration of the agreement, you would be responsible for paying monthly installments that include an interest and a principle component, and your loan can be kept in good standing by at least paying the interest portion of that installment every month. If it becomes necessary to defer the principle part of any installment payment, we could extend the length of your pawn loan agreement with us accordingly, although it should be remembered that the more times an agreement is extended, the longer you will be without the services of your Apple watch.
If you have any other Apple electronics devices, or even electronic devices from other manufacturers for that matter, and you would like to convert them into cash as well, feel free to bring all your items of value along to our pawn shop store for the same fast and friendly service. We aim to be your one-stop pawn shop store for all potential customers in the area including Phoenix, Apache Junction, Gilbert, Tempe, Scottsdale, Chandler, and really for anyone within driving distance of our Mesa, Arizona store.