Receive a Motorcycle Title Loan in Mesa, Arizona's Alma School Pawn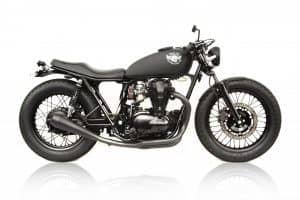 If you have never considered a motorcycle title pawn loan in Mesa, Arizona as an effective means of raising cash quickly, it's time for you to give it some thought. If you don't have any other valuables laying around the house which you could convert into immediate cash at our pawn shop, or if you need a larger amount than the value your home assets would bring, it would definitely be worth your while to consider a motorcycle title pawn loan which we arrange for you.
In order to set this up, the only requirements would be that you provide us with a clear title to your motorcycle, and that it's registered in the state of Arizona to a licensed motorcycle operator, which would be yourself. You don't even need to have good credit history, or any credit history at all for that matter, since this agreement falls into the category of asset-backed loans, which means that your motorcycle would serve as collateral for the loan amount. Without us ever even bothering to check your credit, you can have a good amount of cash put right into your hands, in a very short period of time, just by setting up a motorcycle title pawn loan with us, through our partner company Phoenix Title Loans, LLC.
The Lowest Motorcycle Title Loan Interest Rates in Town!
Our partners on these title loans offer the most competitive rates of any organization in the entire region, so you can rest assured that you will get the maximum payout amount possible, and that the fee for the loan will be the most reasonable in the area. The amount of the loan itself will be determined by the value of your motorcycle, and by the type of title loan which you arrange with us. For instance, if you elect to retain possession of the motorcycle for the duration of the loan, that would cost slightly more than if you relinquished ownership of the motorcycle, and had it stored in a safe, secure area on our lot.
If you're unsure about your situations when acquiring a motorcycle title loan, reach out to us through our live chat or online title loan application.  We've got an option that can assist just about anyone in need of some kind of cash, but it never hurts to ask first!  The best part about inquiring about our service prior is that you can save even more time on getting your thousands in cold, hard cash.  In many situations, we can work out the fine details of your motorcycle title loan such as interest rates, monthly payments, and the closest location to where you are.  This also lets our customers that are unsure about their qualifications to find out beforehand.  While the vast majority of our customers qualify, it never hurts to be extra sure and that's exactly what we're here to do.  Having been the top title loan lender in Tempe, Mesa, and Phoenix for well over a decade we're experts at finding you the cash from your motorcycle.
Whichever way works best for you, we can have the agreement written up that way, because we try to be as accommodating and as flexible as possible for our loyal customers, so we can help meet their financial needs as best we can. We are interested in most well-made motorcycle types, and in particular we welcome such models as Harley-Davidson, BMW, Honda, Kawasaki, Suzuki, Yamaha, Triumph, Husqvarna, Ducati, Aprilia, Cagiva, BMW, Indian, Kymco, and Moto Guzzi.
The Pawn Shop with the Most Options
We can also arrange title loans on automobiles of course, if you prefer to set it up that way, and we can use other vehicle types as the collateral for your pawn title loan with us. If you have a recreational vehicle, that would work just fine, as would an all-terrain vehicle. Even something like your personal golf cart could be used to arrange for a pawn title loan, wherein you receive the maximum cash payout, while retaining ownership and the use of whatever vehicle the agreement is based upon.
The other thing we're able to do is find other means to get you up to your financial requirement if your motorcycle is not enough.  We can also offer cash loans on any other items you have of value, like electronics, jewelry, gold, and silver.  Be sure to pre-qualify through our online means first and find out if this is necessary, but if we aren't able to initially get you enough cash we'll make sure to find a way to do it.