Pawn Your Guitar for Fast Cash in Mesa Today!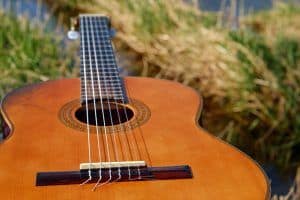 One of the most popular musical instruments in existence today is the guitar, both the electric type and the acoustic. In fact, the guitar has even overtaken the violin as the number one instrument that young people prefer to take music lessons on. Unfortunately, not everyone really follows through with their music lessons, and if they do persist for a few years, eventually even they often get to the point where they tire of the lessons, and are ready to sell the guitars they've been learning on. If this has happened to you, or to someone in your household, you can still pawn your guitar in Mesa, Arizona, and convert it into cash to get some kind of return for it. We are looking for all kinds of guitars, including but not limited to the following list of manufacturers: B.C. Rich, Karvin/Kiesel, Fender, Gibson, Epiphone, Charvel, Daisy Rock, Dean, Gretsch, Guild, Ibanez, Jackson, Kramer, Martin, Ovation, Rickenbacker, Schecter, Seagull, Squier, Taylor, Yamaha, or Washburn.
If you aren't interested in selling your guitar(s), you will also have the option of pawning them for their cash value with us, and that amount will be determined by our in-house expert after a thorough examination of your instrument, right as you are observing the process. If you prefer, you can call ahead to ask for an estimate of value, and we'll be glad to provide a free quote, but the fairest and most accurate appraisal can only come from an on-site evaluation. The good thing about a pawn loan agreement with us is that you would only temporarily relinquish ownership, for the duration of a 90-day loan, which you would repay in monthly installments. By paying at least the interest portion of that installment payment each month, your loan will stay active and in good standing, although paying on the principle as well is advisable, so you can be progressing toward completion of the agreement.
We Pawn Guitars No Matter What City You're From!
Our area of service includes the nearby communities of Apache Junction, Chandler, Gilbert, and Tempe, but anyone in the state of Arizona can reach us at our pawn shop store in Mesa and receive fast cash for the items of value brought to us. We accept other musical instruments as well, including pianos, keyboards, drum kits, tubas, flutes, cellos, violins, saxophones, and many other instruments of good manufacture and in good condition. If you have original paperwork that accompanies your instrument from its initial purchase, you should bring this in to us as well, since it helps to verify authenticity and value.
When you do visit us at our Mesa, Arizona pawn shop store, you can expect to be treated with the same kind of courtesy and helpfulness that we extend to all our most loyal and valued customers, because we are always trying our best to increase the circle of our growing family of satisfied customers. Your patronage means a lot to us, and we go out of our way to show you how appreciative we are about that.
Getting Cash for Your Guitar: The Process
Getting a loan on your guitar is a fast and easy process no matter what city you're from.  Especially convenient because Alma School Pawn and Gold is open seven days a week and features an online application system, we're the premiere place to go with your guitar.  Once you bring it in, one of our associates will appraise its value by looking at used prices of the same model over the last six months.  This is how all pawn shops perform their business, but you want to go to the place that pays the highest percentage (us, obviously!).  Once we've got a fair market price for it, we'll make you a cash offer for your guitar, that's the amount of money you'll be walking out with that very same day.  Should you accept, we collect a few signatures from you and send you on your way.  We hang on to the guitar for the next 90 days until you're ready to come pick it up in our safe, secure storage facility.