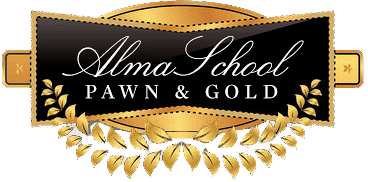 What About Alma School Pawn & Gold, Do You Want To Know?
We at the Alma School Pawn & Gold shop are the #1 pawn shop in Mesa, AZ.  Because we offer you more ways to get fast cash when you need it!  With more than 30 years of experience in turning value into cash, you can rely on us!  In the end, we provide accurate assessments, and the most cash possible!   And with a friendly atmosphere, you will know Alma School Pawn is the pawn shop relied on most in Mesa!
Our pawn shop also provides maximum cash loans for many other types of valuables, including family jewelry and watches, electronic devices, antiques, stamps and coins.  In addition, we also provide title loans on your vehicle, through our partner company Phoenix Title Loans.
We also offer you flexible payment arrangements.  Thereby, giving you the option to make monthly payments, for its duration, or satisfying it one lump sum.
The loan can be satisfied at any time during the time of the contract.  In fact, if you pay off the loan prior to the 60th day, we will deduct a redemption discount.  Either way, you get cash quickly, to help relieve whatever financial stress you may be experiencing.
Why We're The Best Choice For Pawns in Arizona
If you're trying to decide whether it's better to sell your valuable item or arrange for a loan, this information may help clear things up for you:
• Arizona law requires that such loans be set up for a minimum of 90 days.  And if pay the loan prior to 90 days, no penalties or fees can be added.
• If the loan is unable to be paid and satisfied by the 90th day, there are options for the customer, if they choose:

By paying only the interest accrued to date, the loan can be rewritten for another days.  As long as the interest that's accrued is paid, this option is available as many times as needed.  There can not be more debt accruing from loan to loan.  That is why the interest must be paid, to take advantage of this option.
At any time during the pawn loan, you can choose to relinquish your valuables to our store, and alleviate any further obligations to the loan.

 

After the three month period, if the loan is defaulted, the collateral used becomes property of the pawn shop.  You will have no further obligation to the loan or the store. Your credit rating will not be negatively impacted by defaulting.  Most importantly, you will still have the opportunity to do business with us in the future.
More About Alma School Pawn
As you can see, we are all about providing our patrons with the highest cash amounts, while making it as easy and flexible as possible.  So we strongly encourage you to come to the Alma School Pawn & Gold.  Shop with us before you visit anyone else for a cash loan.  We will give you a fair and honest appraisal, and in minutes you'll be walking away with the cash you need!