Pawn Jordans in Mesa, Arizona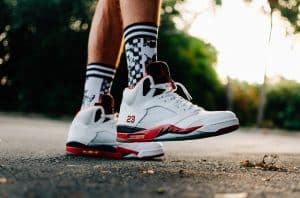 As an example of how flexible and accommodating we can be at our pawn shop store, we can even accept athletic shoes as collateral for a pawn loan agreement, to help you get the money you need in the shortest amount of time, and with the least amount of hassle. You can pawn your Jordans in Mesa, Arizona at our pawn shop store, because we recognize that a great many of the Jordan athletic shoes have high-value, especially in a relatively unused state. While we may not be able to offer you anything close to the original high price at sale time, we will certainly do our best to put the maximum amount of money in your hands, so that you can get past your short-term financial need.
We can accept practically the entire line of Jordan basketball shoes and off-court shoes, in any color, and whether they are high-top or low-cut shoes – the rule of thumb being that if they have value to other people, then they would also have value to us, and we would be able to arrange for a pawn loan agreement with you. You would not necessarily have to sell us your Jordans, and we do recognize that many people become very attached to their favorite athletic shoes, so if you would prefer to arrange for a pawn loan agreement with us, we can set up a 90-day contract. In this setup, you would resume ownership upon completion of the agreement, assuming that you had made each of your monthly payments on time, and for the full amount.
Even if you are unable to make a given monthly payment at some point, you could still keep the loan active by sending us the interest portion of that monthly installment, while deferring the principle portion to a later date. These kinds of deferments can theoretically be made indefinitely, although that will of course extend the length of time that your Jordans remain under our ownership, and that you are without them. So it is obviously to your advantage to pay the interest amount every month, and to pay down on the principle as much as you can, in order to resume ownership of your Jordans in the shortest possible time frame.
If you have other types of sports equipment which has value, we might be interested in purchasing that equipment from you or setting up another pawn loan agreement at the fair market value of the equipment. For instance, a basketball backstop, hockey equipment, skis, skates, and other valuable athletic gear might net you additional cash by bringing them into our pawn shop store. If you are unsure about the value of any items you may have laying around your basement or garage, we encourage you to call our pawn shop store in Mesa, Arizona and discuss it with one of our friendly representatives, to get an idea of whether or not it has value to us, and what that value might be. And then – bring all those items in, and let's make a deal!