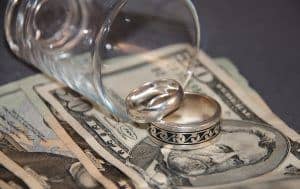 There are a great many reasons why someone might need to raise cash quickly, and there are far fewer ways to get that kind of money when you really need it. Traditional lenders such as banks and credit unions simply can't work that quickly, and when you have a really pressing need for money, they are simply not good choices to help you through your financial circumstances. Fortunately, we can step in to provide the kind of assistance you need as an alternative lender, if you have some valuables in your household which can be used as collateral, so that we can provide you with the maximum payout possible, based on the fair market value of your assets.
Pawn Loans Turn Your Jewelry into Cash
You can pawn your jewelry in Mesa, Arizona at our pawn shop store to get the money you need literally in a matter of minutes, and you will have the option of either selling all the jewelry outright, with no further obligation, or you can redeem all your valuable jewelry at the end of a 90-day pawn loan agreement period by fulfilling the terms of the agreement with us. This is a very simple arrangement, in which you would pay monthly installments consisting of an interest component and a principle component, and assuming that you made each of these installments payments on time, at the end of 90 days, you would be able to resume ownership of all the jewelry which you pawned with us, and your obligation would be fulfilled.
Repaying Your Loan is Cheap, Easy, and Convenient
If need be, you can service the terms of the pawn loan agreement by paying only the interest component, should you happen to have a cash shortfall in any given month, and the principle can be deferred to a later month. Obviously, the more times you do this, the longer will be the duration of time where we retain ownership of your valuables, and which you are paying on the outstanding balance. For this reason, it is highly beneficial to you to pay down the principle as much as you are able, so that you can steadily progress toward completion of the agreement.
We can accept a huge variety of jewelry which you may have laying around the household unused, unwanted, and perhaps collecting dust on someone's dresser, or hidden away in a jewelry box which no one ever thinks about. We have accepted a broad range of items including necklaces, pendants, bracelets, earrings, rings, diamonds and other gemstones, and even precious metals. We also welcome any collections of estate jewelry you may have, and in some cases, we can even pay out more because it's a complete collection. If you have documentation or paperwork to accompany any of your valuable jewelry pieces, by all means bring it along, because it will help us with verifying the authenticity of your valuable items. Otherwise, our in-house jewelry expert will appraise your items right in your presence, and we will provide you with the fairest and most honest estimate of the value of all your jewelry items.