Most Cash Diamond Jewelry Loans from Alma School Pawn and Gold!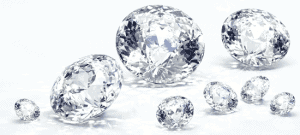 When you need to raise cash quickly and you have some diamond jewelry pieces that you can use as collateral, your best choice by far is to visit the best diamond jewelry buyer in Mesa, Arizona,  Alma School Pawn, because that's the place where you will receive the maximum payout for your valuable diamond jewelry. If you don't really want to sell your diamond jewelry pieces outright, we can arrange to draw up a three-month contract with you, and advance you the cash you need right on the spot as a pawn loan. When our in-house expert appraises your diamond jewelry, you'll be sure to get the highest possible price for your valuable diamond items, whether you want to sell them outright or just get a loan.
Decades of Diamond Loaning Experience
By visiting the best pawn shop Mesa has to offer, Alma School Pawn, you can rest assured that you'll get the best customer experience and most cash out of any other place. Our pride lies in how we treat our customers and the relationships we make with them. In fact, most of our customers are consistent visitors to our shop! We have decades of experience in buying and selling diamond jewelry, including name brand craftsmen such as Tiffany and Cartier, and even lesser manufacturers in the business. We can accept tiny diamond studs, elaborate and stunning necklaces from Tiffany's, and just about every kind of diamond jewelry piece in between those two extremes. Whether your diamond jewelry collection is with $100,00 or just $100, we can handle it in our pawn shop store in Mesa, Arizona and get you the money you need quickly, so that you don't have to go through other less friendly pawn shops or jewelry dealers.
If you have other kinds of jewelry in your household which has just been gathering dust and going unused, we'd be happy to appraise that for you as well, and give you the maximum amount of money that it's worth. We're always happy to accept whatever kind of bracelets, necklaces, pendants, earrings, rings, amulets, and all other kinds of jewelry which may have value, either for their settings or for the stones which are included in those pieces. We also deal with a great many kinds of gemstones other than diamonds, for instance pearls, sapphires, emeralds, rubies, and opals.
All Diamonds Are Good As Cash
Even if your diamond jewelry has been chipped or damaged in some way, perhaps broken, or it's just rather worn over the course of many years of usage, we can still use those pieces in our jewelry inventory, and provide you with the cold, hard cash you need. You can bring us individual pieces or an entire collection that you may have inherited from relatives, and we'll be glad to arrange for a pawn loan to get you the money you need. If you have any documentation or verification of authenticity for your jewelry pieces, please bring that in as well, since it adds value to your diamond jewelry items, and reduces the amount of time we have to spend confirming authenticity.