Apple MacBook Pro Cash Pawn Loans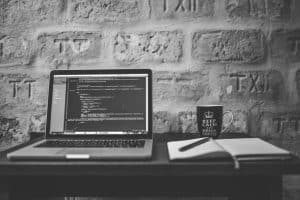 If you're one of those people who loves having the latest and greatest electronic devices for all the new features and capabilities they offer, you may already own an Apple MacBook Pro, which is a top-of-the-line mobile computer manufactured by mega giant Apple Corporation. This is a machine that has considerable value, because its new features include the Touch Bar and the Touch ID capabilities, which are forward-thinking ways of replacing function keys and providing secure logons. But as much as you love your Apple MacBook Pro, you may have come into a period of time where you have an urgent need for generating immediate cash, and you don't have other items of value that you could use as collateral to get that needed money.
Solve Financial Distress With Your MacBook Pro
If this sounds like your situation, you have one great option available to you for getting the cash you need in a hurry, and solving your problem – you can pawn your Apple MacBook Pro in Mesa, Arizona at our pawn shop store, to solve your temporary financial crisis. After repaying the loan, you will again be in possession of your valuable Apple MacBook Pro. When you enter into a pawn loan agreement with our store, your machine would be evaluated for its present value on the market, which will always be more if you can bring us all the accessories that originally came with your Apple MacBook Pro at the time of purchase. This means all cables and other included materials, even the box that it was packaged in.
Then the highest amount of money possible will be advanced to you right on the spot, so you don't have to go through any waiting period, and we would then write up a 90-day pawn loan contract. Your responsibility in this agreement would be to pay monthly installments that are comprised of both interest and principle on the loan, and by paying at least the interest part for each month, your agreement would remain in good standing with us. Obviously, it would be to your advantage to also pay down the principle amount as well, so that you can be steadily advancing toward completion of your agreement, but if there are months where you are unable to pay the full amount, you can get by with paying the interest only and deferring principle amounts to a later date.
When you have successfully made all payments, you would resume ownership of your Apple MacBook Pro, and can again enjoy full use of your asset. We serve virtually the entire state of Arizona at our pawn shop store, but if you happen to live in the communities nearest to us, such as Scottsdale, Chandler, Gilbert, Tempe, Phoenix, or Scottsdale, you will have the closest drive into our Mesa, Arizona location. We look forward to working with you and providing you with the maximum payout possible for your Apple MacBook Pro, as well as any other electronic devices that you would like to pawn with us to generate instant cash.