Pawn Your Fashion Watches in Mesa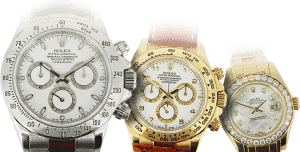 If you happen to be suffering through a period of financial difficulty, or if a sudden and unexpected need for immediate cash has arisen in your household, you probably won't be able to secure the funding you need through traditional lenders, because they simply can't act that fast, and even if they could, all applicants would have to be able to pass a stringent credit check. Unlike those traditional lenders, our pawn shop store in Mesa, Arizona requires no credit check whatsoever, because the only thing that really matters to us is the value of the items you bring us, and the fact that you are the sole legal owner of those valuables.
Speedy Cash Watch Loans
Also unlike conventional lending institutions, our lending process can happen extremely quickly, often within a matter of minutes or hours at most, and when you take into consideration that we are also a highly reputable company which provides superior customer satisfaction to all our loyal clients, we like to think we're your best option when you need money fast. One of the ways you can get cash in your hands quickly is to pawn your fashion watch in Mesa, Arizona at our pawn shop store, which has a special interest in designer watches and fashion watches. These can have significant resale value, especially if you bring them to us with the original carton and bill of sale, as well as any documents which provide certification of the item.
We Loan on All Watches
Some of the fashion watches which are particularly welcome at our store include those from Patek Philippe, Rolex, Cartier, and Breguet, although we're happy to see many other types of collectible watches whose authenticity can be certified. If you're interested in getting a free estimate over the phone, we'll be happy to provide a quote free of charge, although it should be understood that this is by no means a guarantee of accuracy, and that the most accurate assessment of your designer watch can only be given after examining the piece here at our store, in the presence of our expert in-house jeweler. It's very easy to reach our Mesa Arizona pawn shop store for anyone living in the surrounding communities of Phoenix, Scottsdale, Apache Junction, Gilbert, Chandler, or Tempe, and we would like to assure you that it will definitely be worth your while to make the drive into our store and get red carpet treatment when you pawn your fashion watch with us.
The real advantage of this arrangement is that you will quickly get the necessary funds you need to help resolve your monetary crisis, and once you've paid off the pawn loan agreement with us, you will also again be in possession of your valuable collectibles. Each pawn loan agreement that we arrange with our loyal customers is for a term of 90 days, and by making monthly installment payments which at least include the interest for that month, you'll be able to keep your loan agreement in good standing, and progressing toward eventual payoff.