Diamond Buyer in Mesa, Arizona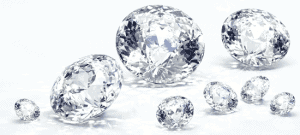 We are one of the biggest diamond buyers in Mesa, Arizona, and we buy diamonds of all sizes and shapes – practically any kind of diamond you bring in to us. Maybe you've had some family jewelry laying around in an heirloom box for decades, and you have finally decided to convert it into cash, or maybe you had a relationship end prematurely and you're stuck with an engagement ring. In these or any similar scenarios, you're holding the bag on something that can be very valuable, but it has no real value to you, other than how much cold cash you can convert it into. Those situations are just when you should put your diamond valuables in some secure container, and bring it in to be evaluated by our expert jeweler for an accurate assessment.
What Makes Alma School Pawn and Gold the Best Diamond Buyer Choice?
With more than 30 years of experience in the business of buying and selling diamonds, we have the background to fairly evaluate your valuable standalone diamonds as well as your diamond jewelry pieces. You will always have the option of either selling your diamonds to us outright, or to pawn it for a 3-month period, and redeem it when you've paid off your loan. You also don't have to worry about bringing in something which is too expensive for us to handle – we'll be glad to deal with anything from $100 to $100,000, and even higher if the situation calls for it. If your diamond jewelry happens to have some kind of damage, like a broken chain or chipped setting, that's no problem either – as a diamond buyer, your diamond jewelry still has value to us, and we can offer you the highest price for it, based on the expert evaluation of in-house master jeweler.
We can also offer you top value for the best brand name diamonds and diamond jewelry, if they carry the house name of Cartier, Tiffany, or one of the other recognized kings of the industry. The point is, that whatever the condition and whatever the size or setting of your diamond jewelry, you'll get the absolute fairest value for it here at our diamond store in Mesa, Arizona. Before you take it anywhere else, bring your diamond jewelry into our store, and let us show you why we are the leading pawn shop in the area, and why our customers keep coming back to us, long after their first visit with us.
Is it Also Possible to Buy Diamonds From You?
We should also mention that if you happen to be in the market for some kind of dazzling diamond jewelry to impress your girlfriend with, or your fiancée, we have an extensive inventory of both standalone diamonds, diamond rings, diamond necklaces, diamond bracelets, and even more pieces that will instantly win her over! Because we don't have the overhead of an expensive diamond jewelry store, we can offer you the absolute best bargain prices you'll find anywhere in the Southwest. When you're shopping for any kind of diamond jewelry – don't pay for store atmosphere or brand name, pay for the real value of the jewelry you're getting.  Trust our diamond store in Mesa, Arizona to provide you with that kind of value.