Vintage Jewelry Pawn Loans – Gold and Silver!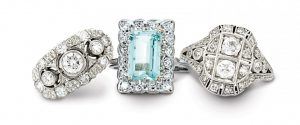 Many homeowners have been bequeathed vintage jewelry worn by parents, grandparents, or ancestors even further back in their family tree line. Even older jewelry like this can have significant value, because it is often made with precious metals such as gold and silver, which return retain their value over long periods of time, up to and including centuries. Also, there's a great deal of vintage jewelry which has been made with gemstones in the settings, and some of these gemstones also retain value over long periods of time. For instance, diamonds, emeralds, rubies, pearls, opals, jade and other precious and semi-precious stones retain value very well over time. If you have vintage jewelry in your household and you aren't sure of its value, you can call our pawn shop store to get an idea about what it might be worth, but the only accurate appraisal would have to be conducted right here on the premises, in your presence.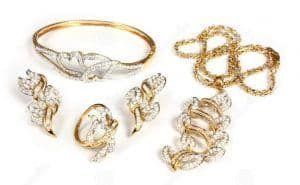 True Vintage Jewelry Experts At Our Pawn Shop
We can promise you that will make it worth your while to pawn your vintage jewelry in Mesa, Arizona at our store, because we can provide you with the highest payouts for your vintage jewelry of any pawn shop in the region. The broad service area which we do business in includes many of the biggest cities in the state of Arizona, such as Chandler, Tempe, Apache Junction, and even more big and small communities within the state. Our central location in Mesa, Arizona, will make it easy for you to bring in all your valuable vintage jewelry for an accurate assessment and the payout you are hoping for.
At your option, we can purchase your vintage jewelry outright, and you can walk away with the cash payout, having no other obligation to our pawn shop store. However, if you prefer to keep your valuable vintage jewelry in the family, we can also arrange for a three-month pawn loan agreement in which you would still get all the cash you need, and at the end of the pawn loan period, you would be able to redeem all your vintage jewelry valuables and resume ownership. We make it as easy as possible for you to fulfill the terms of your agreement with us, and we build in flexibility so that if you have difficulty paying the full amount in any given month, you would still be able to maintain the pawn loan agreement in good standing, simply by paying on the interest portion of that month's installment. Then, when you are better able to pay down on the principle amount, you could resume full payments.
Plenty of Options to Get the Cash You Need
If you have any other valuables around your household which you would like to raise cash for, to cover a short-term interruption of cash flow, by all means, call us for a free quote on anything you think may have value. In addition to jewelry, we are also happy to accept many different kinds of electronic devices, major appliances, power tools, precious metals, coins and stamps, cell phones, smart watches, and even more.