Estate jewelry buyer in Mesa, Arizona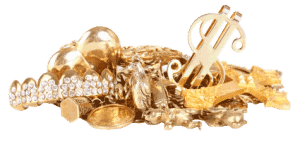 If you're not familiar with what estate jewelry is, here is a brief synopsis; it's commonly considered to be those items of jewelry made in previous eras; owned by prior owners, who are often ancestors of the present owners, and wore those jewelry items long ago. This type of jewelry is also called antique jewelry or vintage jewelry.
Estate jewelry can be acquired by enthusiasts of estate sales and estate auctions who make regular visits to such events. They bid on entire collections of jewelry, or on individual pieces from those collections. This jewelry does not come with a receipt. This is proof it wasn't purchased at a retail outlet or jewelry store. It also generally lacks papers of authenticity, which means that the untrained eye is not able to determine its authenticity. Fortunately, you have an estate jewelry buyer in Alma School Pawn and Gold.
How Do I Know How Much I'll Get From You, the Estate Jewelry Buyer?
We are always glad to accept collections of antique jewelry at our pawn shop, because we buy estate jewelry in Mesa, Arizona more than any other pawn shop. We also provide the biggest payouts to our customers who bring in such fine pieces. While we may be able to provide you with an estimate over the phone, it is virtually impossible to quote you an accurate price on any given piece of estate jewelry; without having our master jeweler assess each piece, to determine its authenticity and what its true value on today's market would be.
Is it Possible I Could Get MORE For My Jewelry?
That's why we encourage you to make a personal trip to our pawn shop; bring in your estate jewelry from whichever nearby community you happen to live in, including Phoenix, Scottsdale, Tempe, Gilbert, Apache Junction, or Chandler, so we can make it worth your while. If you prefer to relinquish ownership of your estate jewelry only temporarily, we can provide you with the cash you need on that basis; so, at the end of the three-month loan period, you will again resume ownership of all pieces.  In both situations, you would still receive the maximum payout for your collection of estate jewelry; with the only difference being whether or not you intend to resume ownership at the conclusion of the three-month loan.
What Other Examples Can You Offer as an Estate Jewelry Buyer?
Glad you asked! Some examples we love to purchase at our Mesa, Arizona pawn shop are more than just jewelry. They include watches, gemstones, designer jewelry, silverware, diamonds, gold, silver, and platinum. In cases where precious metals are involved, we also consult the New York spot market for those precious metals, so we can have an accurate figure to refer to for up-to-the-minute prices. This helps to ensure that we give you the most accurate representation of fair value; examined by our staff for all the worth in your estate jewelry collection. We realize that by making you happy, you will return to do business with us in the future; that helps us with establishing a relationship of trust and mutual benefit with our clients. So don't hesitate – bring us your estate jewelry today; before visiting any other pawn shop in the area!