Pawn Your Bicycle for Cash at Alma School Pawn!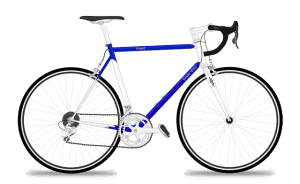 One valuable item that most people don't think of when they're considering pawning valuables for fast cash is their bicycle. If you would like to pawn your bicycle in Mesa, Arizona, the very best place to do that would be at our pawn shop store in the city, where you can count on receiving the most money for your bicycle, and where you can also count on being treated with the respect that all our loyal customers are entitled to. Your bicycle is as good as cash at Alma School Pawn and Gold, and we can seal the deal in mere minutes from when you arrive at our location.
All Bicycle Brands Are As Good As Cash!
We accept a great many name brand manufacturers who are the creators of well-made machines that have ongoing value, including such industry leaders as Surly, Jamis, Salsa, Trek, Schwinn, Specialized, Soma, Cervelo, Bianchi, and Giant. The sole requirement we ask is that you are the legal owner of the bicycle you bring to us, so there are no disputes about ownership that involve us. The great thing about taking out a pawn loan agreement with us is that the highest amount of money is paid directly to you after our in-house expert appraises your bicycle, and at the end of a 90-day loan agreement period, you'll again take possession of your valuable bicycle.
Repayment is Quick, Easy and Flexible
If it happens that you run into financial difficulty during the 90-day term of your agreement, you'll still be able to keep your account up to date by at least paying on the interest portion of your monthly installment. Then when your budget allows, you can also pay down on the principle amount of the loan agreement, and make faster progress toward completion of the loan. We can extend your loan term an additional 90 days at your option, to allow you the time you need to get caught up, but it will always be to your advantage to pay as much on the principle as you can, and if you are able to pay the loan off early, there is no penalty assessed for that.
If you have any other items of value laying around the household unused, we would encourage you to bring those in as well, and have them redeemed for the best cash payout amount from any pawn shop store in the region. We are always happy to accept electronic devices such as desktop PCs, laptops, notebooks, cell phones, flat screen TVs, power tools, stereo systems, major appliances and other electronics of value. We can also pawn your jewelry items, either as individual pieces or as an entire collection, which you may have inherited or purchased from an estate, and we also provide the best payouts for precious metals in the many forms which they are made into.
For a free estimate of the value your precious items might have, give us a call at our store in Mesa, Arizona, and then stop in for a personal visit to get the cash you deserve.